Understanding Food Intolerance for Better Health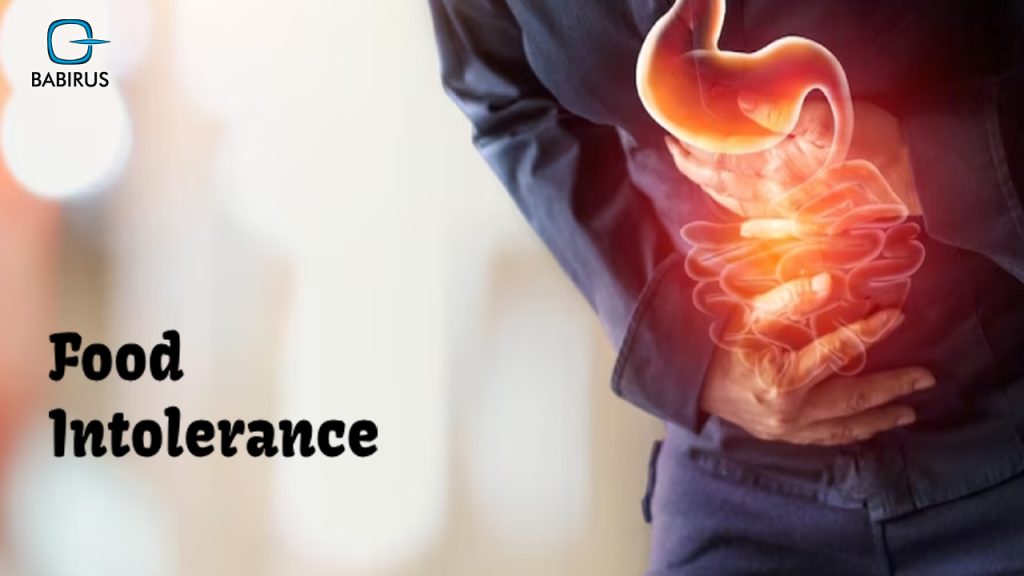 Food intolerance affects a significant portion of the population worldwide, with varying degrees of severity. Estimates suggest that approximately 20% of individuals may experience symptoms of food intolerance.
Food intolerance primarily affects the digestive system. It occurs when the body has difficulty digesting or processing certain components of food, such as lactose, gluten, or fructose.
What is Food Intolerance?
Food intolerance refers to the body's inability to properly digest or process certain types of food. It is different from a food allergy, as it does not involve the immune system. Instead, food intolerance is often caused by a lack of specific enzymes or chemicals needed for digestion.
Common symptoms of food intolerance include bloating, gas, stomach pain, diarrhea, or nausea. It is important to note that food intolerance is not life-threatening, but it can cause discomfort and affect a person's quality of life.
If you suspect you have a food intolerance, it is recommended to consult with a healthcare professional for proper diagnosis and guidance.
The Most Common Food Intolerances:
While people can develop intolerances to various foods, some are more prevalent than others. The following are the most common food intolerances:
• Lactose intolerance: Difficulty digesting lactose, the sugar found in dairy products.
• Gluten intolerance: Adverse reactions to gluten, a protein found in wheat, rye, and barley products.
• Fructose intolerance: Difficulty absorbing fructose, found in high amounts in fruits, honey, and some sweeteners.
• Caffeine intolerance: Reactions to the stimulating effects of caffeine, commonly found in coffee, tea, and chocolate.
• Histamine intolerance: When the body has trouble breaking down histamine, found in fermented foods, aged cheeses, and alcohol.
• Corn intolerance: Adverse reactions to corn-based products, such as corn syrup, cornstarch, or cornmeal.
Symptoms of Food Intolerance:
Food intolerance symptoms can manifest in various ways and can occur immediately or a few hours after consuming triggering foods. Some common symptoms include:
• Digestive issues: Abdominal pain, bloating, gas, diarrhea, or constipation.
• Skin problems: Rashes, hives, eczema, itching, or swelling.
• Headaches or migraines.
• Respiratory issues: Wheezing, congestion, or difficulty breathing.
• Fatigue, weakness, or lethargy.
• Joint pain or muscle stiffness.
• Mood swings, irritability, or anxiety.
Treatment Options for Food Intolerance:
• Elimination diet: This involves removing suspected trigger foods from your diet for a certain period and then reintroducing them one by one to identify specific intolerances.
• Probiotics and gut health support: Promoting a healthy gut flora can aid in digestion and reduce the severity of symptoms.
• Digestive enzyme supplements: Taking supplements that contain enzymes for breaking down certain food components can aid digestion and alleviate symptoms.
• Medications: In some cases, over-the-counter or prescription medications may be recommended to manage specific symptoms, such as antihistamines for allergic reactions.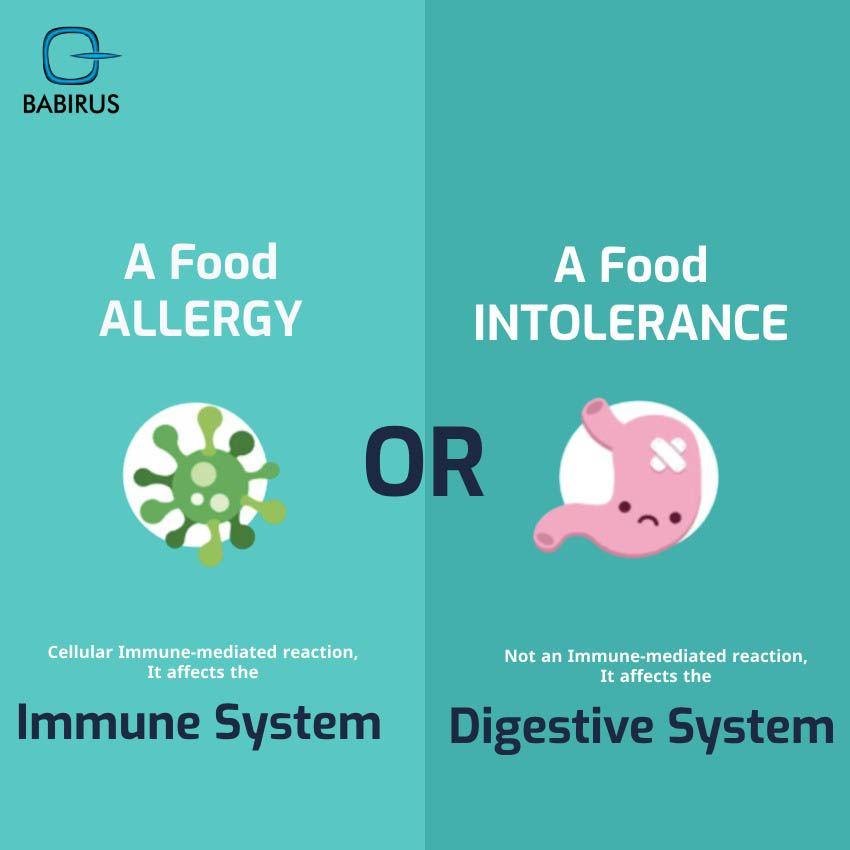 What's the Difference Between a Food allergy and Food intolerance?
Food allergy, unlike food intolerance, involve the immune system's response and is an abnormal immune response triggered by consuming certain foods.
It occurs when the immune system mistakenly identifies specific components in food as harmful substances and produces an allergic reaction. The immune system releases chemicals like histamine, leading to a wide range of symptoms that can range from mild to severe.
Common food allergens include peanuts, tree nuts, shellfish, fish, eggs, milk, soy, and wheat.
Managing Food Intolerance and Food Allergy:
Identifying Trigger Foods:
Managing both food intolerance and food allergies requires identifying and avoiding trigger foods. For food intolerance, keeping a food diary and observing patterns of symptoms can help identify problematic foods. In the case of food allergies, it is vital to read food labels meticulously, understand potential cross-contamination risks, and communicate effectively with restaurant staff to ensure safe food choices.
Working with Healthcare Professionals:
Seeking guidance from healthcare professionals, such as allergists, dietitians, or nutritionists, can provide valuable support in managing both conditions. They can help create personalized meal plans, recommend alternative food options, and provide education on label reading and food preparation to prevent reactions and ensure balanced nutrition.
Food Intolerance Diagnosis:
The diagnosis of food intolerance typically involves a combination of medical history, symptom analysis, and elimination diets. Here is a general overview of the process:
• Medical history: Your healthcare professional will ask about your symptoms, their frequency and duration, and any potential triggers or patterns related to your diet.
• Symptom analysis: Your healthcare professional may ask you to keep a food diary to track your symptoms and identify potential food triggers.
• Elimination diet: In some cases, your healthcare professional may recommend an elimination diet, This involves removing suspected trigger foods from your diet for a period of time and then gradually reintroducing them to observe any symptoms.
• Diagnostic tests: In certain cases, diagnostic tests such as blood tests, breath tests, or skin prick tests may be conducted to rule out other conditions or identify specific food intolerances, such as lactose intolerance or gluten intolerance.
It is important to consult with a healthcare professional for an accurate diagnosis and personalized guidance based on your specific symptoms and medical history. They can provide appropriate recommendations for managing your food intolerance and ensuring a balanced diet.
Importance of the Foodprint®, the Food Intolerance Testing:
Foodprint® test analyses up to 222 foods for IgG antibodies and is trusted by more than 150 laboratories worldwide.
• Fast track to a guided elimination diet
• Just 5µL serum required – patient can take sample at home or in clinic
• Easy interpretation of result using "traffic light system" and quantified reactions in IgG/ml
• 222 food and drink antigens tested in duplicate
• Provides a detailed guide to patient food elimination
• Foodprint® allows for more detailed and actionable results for practitioners and their patients
The Value of the Foodprint®test:
The Foodprint®test is important for identifying and managing food intolerances for several reasons:
• Identifies Trigger Foods: The test helps identify specific foods or ingredients that the individual may be intolerant to. This knowledge is crucial to avoid consuming these trigger foods and prevent adverse reactions.
• Personalized Approach: The Foodprint® test evaluates an individual's response to various foods, providing a more personalized approach to managing food intolerances. This allows individuals to create a diet plan that suits their specific needs, promoting optimal health and well-being.
• Improved Symptoms: By avoiding trigger foods identified in the Foodprint® test, individuals can experience a significant reduction in symptoms associated with food intolerances. These symptoms may include digestive issues, headaches, skin problems, fatigue, and mood disturbances.
• Prevents Nutritional Deficiencies: Food intolerances may limit the intake of certain food groups or essential nutrients. The Foodprint® test allows individuals to identify alternative food sources or supplements to ensure they meet their nutritional requirements, preventing deficiencies that may occur due to restricted diets.
• Enhanced Quality of Life: By managing food intolerances effectively through the Foodprint® test, individuals can experience an improved quality of life. They can enjoy meals without fear of adverse reactions, feel more energized, and have an overall better sense of well-being.
• Long-term Health Benefits: Managing food intolerances can have long-term health benefits. By eliminating trigger foods identified through the Foodprint® test, individuals may experience reduced inflammation, better gut health, improved immune function, and lowered risk of chronic diseases associated with untreated food intolerances.
Food Intolerance Test in Dubai
The Foodprint® test plays a crucial role in identifying and managing food intolerances. It provides personalized information, helps reduce symptoms, prevents nutritional deficiencies, improves quality of life, reduces guesswork, and offers long-term health benefits.
Food intolerance can significantly impact our quality of life, but with the right knowledge and support, we can effectively manage these conditions.
The FoodPrint Arabia
In Dubai and over the GCC region, Babirus Medical Equipment LLC is providing this test. The test is available in Laboratories and Clinics across the Middle East including UAE, Saudi Arabia, Qatar, Kuwait, Oman, Iraq, and Tunisia.
By identifying trigger foods, adopting appropriate dietary changes, and addressing underlying causes, we can nourish our bodies while minimizing discomfort and optimizing our health.
Remember, it is always important to consult with healthcare professionals for guidance and personalized advice on managing food intolerance, as we all have unique needs and requirements.
If you are not sure or have any queries, we recommend that you seek the advice of a qualified expert such as your health practitioner, dietician or nutritionist, who can answer your queries, and help you modify your eating habits safely.
Don't let food intolerance symptoms affect your quality of life. Take the first step towards understanding and managing your condition today!
For more info visit our personalized medicine products – omega